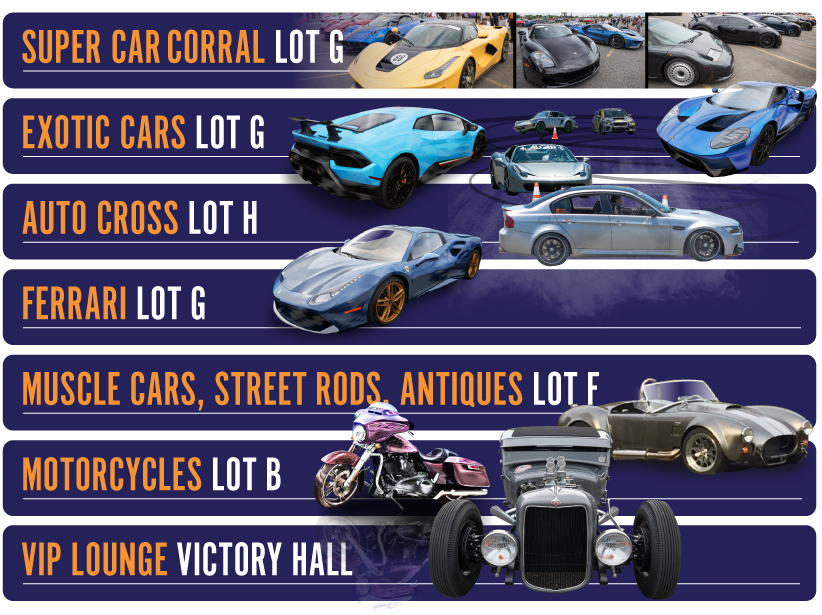 Fueling Bright Futures Gala
Saturday June 1, 2019 6:30pm
The signature fundraising event with over 300 supporters of the charity, featuring a moving cocktail party with themed food stations in a stunningly decorated venue that includes live and silent auctions, award presentations, live music, entertainment and great food – all for a worthy cause.

CF Charities Super Car Show
Sunday June 2, 2019 10am-2pm
Check out over 400 of the hottest super cars on display for a great cause! This show features the best of ultra-high-performance sports cars or grand tourers from all over the United States, and infuses special family-friendly activities, autocross experiences and live entertainment.

Charity Track Day
Thursday May 30, 2019
Develop your skills and test your vehicle on a professional road course. This first-class experience has all the thrills and excitement of NASCAR racing in a smaller "condensed" version. After orientation, you can take to the track for multiple laps – checkered flags and all!

Philly Drive for Kids
Sunday June 2, 2019 8:00am
A benefit ride to raise awareness and funds for the Fueling Bright Futures for Kids Campaign. Car enthusiasts meet at the Wells Fargo Center. The police escorted ride travels through Philly for a 5-mile tour and returns before the start of the show.

CF Charities Student Scholarship Award Ceremony
Friday May 24, 2019
This ceremony recognizes students in our Promise Scholars program, which promotes high school graduation, college access, and career exploration. Students receive scholarships and awards based on grades, attendance, and positive behavior.